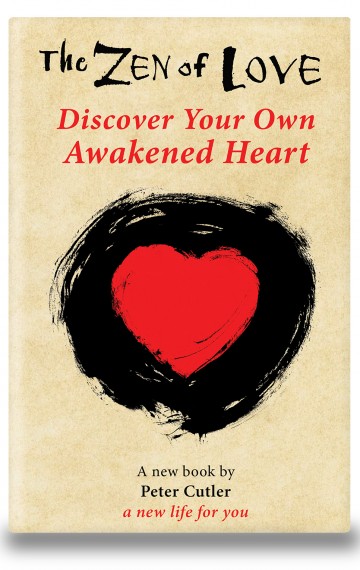 $14.99 Paperback $3.99 Kindle
Publisher:

N-lightenment LLC

Edition:

First

Available in:

Paperback, Kindle

Published:

March 2, 2017
Download First Two Chapters NOW
Buy on Amazon NOW
The Zen of Love is a love letter that awakens the infinite unconditional love that lies deep within your heart. It will heal and transform all your relationships, especially the one you have with yourself.  Much more than a book, "it is a true living miracle."
Relationships can be tricky. But that's because we don't understand the profound power of love that's going on "behind the scenes". Let this book enlighten you and change the way you see relationships, the world and yourself.
The book is available on Amazon.com for $14.99 paperback and $3.99 Kindle. Before you buy, you can download the Table of Contents and the first two chapters to see if it's right for you.
Download the first two chapters Now
Offering this book to you fills my heart with joy and gratitude.
What Readers Say
The Zen of Love is one of the clearest books ever written on the fundamentals of spirituality and personal growth. In its pages the philosophy of Zen meets the most practical aspects of love and relationship (with self and others). Author, Peter Cutler, combines deep insights, warm anecdotes, and effective exercises to awaken the reader's heart and mind through authentic love and compassion."
– Michael Mirdad, Spiritual Teacher and best-selling author, Creating Fulfilling Relationships and Healing the Heart & Soul

"The Zen of Love is an absolutely wonderful book – highly compelling and beautifully written. Its openhearted message of love positively beams from every page."
– Rosina Wilson

"A blissful experience of being embraced in the arms of my Beloved, hearing Love's sweet voice as I journeyed through this tender Divine expression…more than just a book, it is a timeless path to share with all who can touch the wisdom and peace conveyed in every chapter.  Thank you, dear Peter for so Lovingly sharing yourself, and The Self in such honesty and intimacy."
– Mary Lou Christianson

"In The Zen of Love, Peter speaks to the reader intimately and personally in a way that is compelling, and through his words, conveys the love that he eloquently speaks about. It is no surprise that Peter would write about love when he so naturally and deeply embodies it."
– Gina Lake, Author of Choosing Love, The Heroic Journey and Radical Happiness

"The Zen of Love is worthy of high praise. The book immediately elicits a palpable and tangible experience of the truth/love which it speaks. I began reading it and by page three melted into the ineffable essence of the author's writing. If you are seeking a book about spiritual awakening / enlightenment which contains more than words, you've just found it."
–  J. Stewart Dixon /Author/Teacher www.bluecollar-enlightenment.com

"In Peter Cutler's new book, The Zen of Love, the Infinite Being makes an intimate appeal to the Infinite Being that we are. It isn't Peter the person who has written this book, but something far greater. This writing comes from the Heart and speaks directly to the Heart– it's time, dear one. It's time to wake up from the dream. While reading these passages, I felt the gentle stirrings of recognition within."
– Carolyn Marsden

"It is so good to read this! I can already feel this love while only reading…. And now I do this practice! Thank you, Peter."
– Stina Brunner

"Was walking around all today thinking of LOVE, Peter. I "blame" you. Gratefully."
– Nic Holmes

"Many thanks, Peter, for sharing so much clear, insightful and profound wisdom with us all. Your words resonate with the inner essence of all. Infinite love and gratitude."
– Barbara Carter

"When 'One' awakens into one's essential nature, they are rendered speechless as it is seen that words simply cannot touch the immensity of 'IT's perfection. Then, through the integration of the radiant Self/Consciousness, the words seem to flow through some beautiful ones. Peter is such a one. The 'Word' flows from a wellspring of direct experience, from Consciousness ItSelf."
– Dale Langley

"A lot of Truth spoken here."
– Edythe Currie