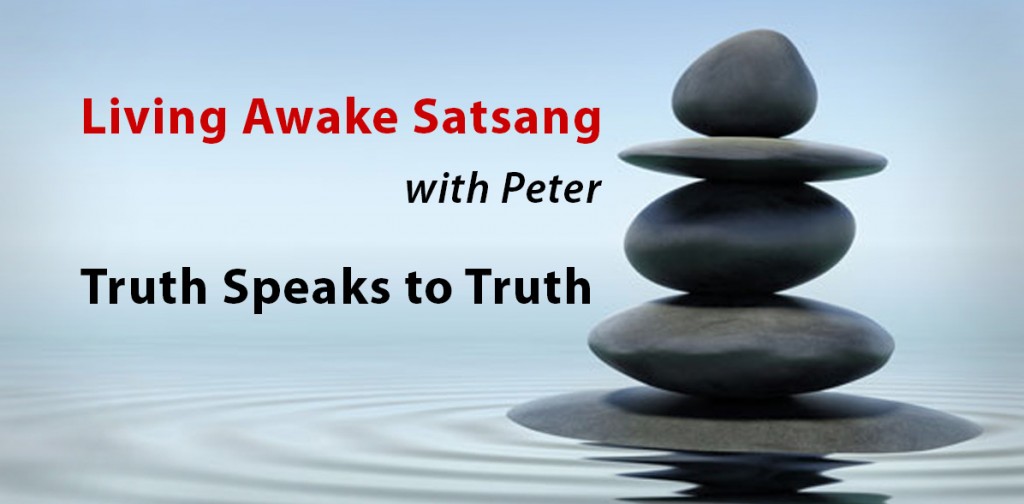 Here you will find recent videos of the online Living Awake Satsangs with Peter. People who cannot attend the live online Satsangs or who miss one still have a chance to experience at least part of it through these videos. Click here to find out more about the Living Awake Groups and Satsang–Living in Truth
Recommendations for Watching
This is also useful for any Satsang you watch on video. Watch in a quiet place without distractions. Turn off your phone and any prompts or notification sounds that may appear on your screen. Imagine you're attending this Satsang live.  Imagine you've entered the room where this Satsang is being held. Focus your full attention on what happens here just as you would if you were attending live.
This will give you the best results. Click on the image to watch the video. Enjoy.
The Limitless Wisdom of Not Knowing
Wednesday Night Satsang – 7/24/2019
A powerful Satsang and transmission showing where true wisdom really comes from. It's not the mind. Thoughts can only obscure it. Yet it is always here and always available. The story of how I discovered this and began offering these Satsangs, and some tips on how you can access this unlimited wisdom too. To see more videos like this, subscribe to The Enlightened Way YouTube channel and visit the website https://n-lightenment.com
You Are Always OK
No matter what is happening in your life, you are always fundamentally OK. Your True Nature is one of great peace, contentment, unconditional love, and complete freedom from all suffering. Nothing that happens in this life can take that away or change it in any way. May this video help you remember.