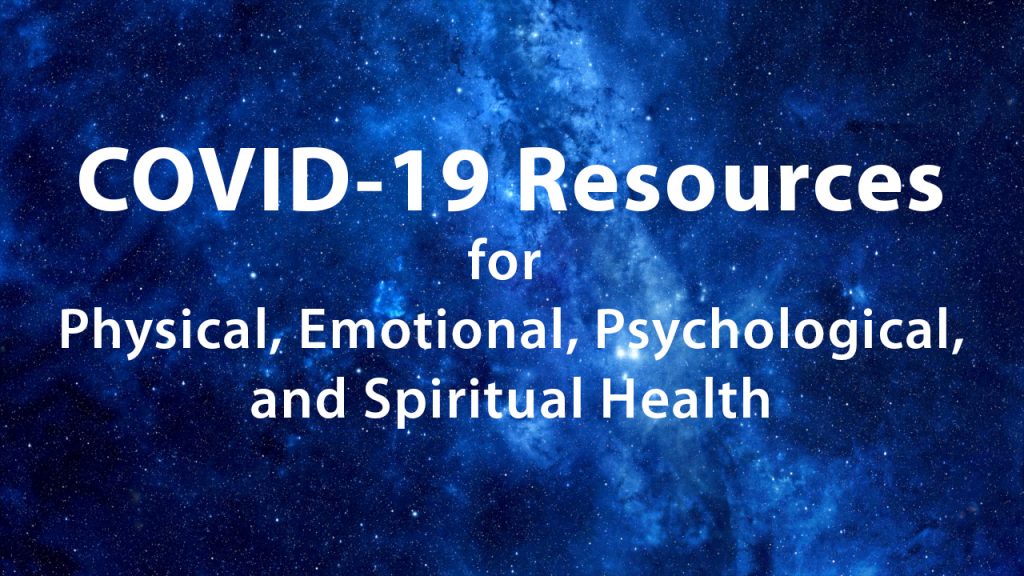 As my way of serving, I offer this page of resources I've created to help you stay healthy physically, emotionally, psychologically, and spiritually during this COVID-19 Coronavirus pandemic. Many people are suffering because of the great changes the virus and its disruptions have brought to their lives. In their suffering, they may not see the even greater opportunities offered to them. I hope these resources can not only help relieve your suffering, but bring you great peace, happiness, love, and wisdom you never imagined possible.
I would like these resources to help as many people as possible. If you received benefit from them, please share them with others.
This video is a good place to begin. It shows you how to maintain and even discover happiness no matter what challenging situation you find yourself in.
This next video is a very powerful healing practice and meditation. Think of it as a "spiritual housecleaning". At some point in our lives, we can all use this.
This post will give you a new and beneficial perspective on the COVID-19 Coronavirus and how you can respond to it. Dealing with the COVID-19 Coronavirus – WHAT WOULD LOVE DO?
Physical Health
These videos will help you stay healthy through motivation, instruction, demonstrations, and tips. They are what I do to stay healthy. Physical health is especially important during a pandemic like this one. Our primary protection from the Coronavirus is our own immune system. Here are some practical and proven ways to keep it strong at any age. Staying Healthy
Live Zoom Sessions
Due to the suffering that many people are going through around the virus pandemic and its disruptions to their lives, I am offering both group and individual sessions through the Zoom online platform. The group sessions are in addition to my normal Satsang sessions which are on Wednesdays at 8 pm Pacific Time and Saturday at 1 pm Pacific Time: Group Sessions. Information about individual sessions is here: Individual Sessions. If the fee for the individual session is more than you can afford, contact me directly and we will work something out. Information for how to attend via Zoom is here: Zoom Instructions
Social Distancing?
At one time, I walked, chanted, and sat in meditation with hundreds of monks, nuns, and lay practitioners of the Way.
Today I seemingly walk, chant, and sit in meditation alone.
But is this really true?
In my direct experience, I am walking, chanting, and sitting meditation with infinite Buddhas and Bodhisattvas.
I am walking, chanting, and sitting with infinite awakened beings from all traditions and no traditions.
All those I have walked, chanted, and sat with in person, I am still waking, chanting, and sitting with today.
Even those not on a spiritual path who do not walk, chant, and sit in such devotion, love, and awareness are all here with me.
It is not only walking, chanting, and sitting, but in every moment I am never alone. Throughout the infinite universe there has never been a moment of separation.
You might say, "But your body is alone."
Even here I must say that is not my experience.
The mountains and trees are my bones. The rivers are my blood. The wind is my breath. The sun is my heart. Can you really find any separation here? I cannot.
Even now the birds have begun the chanting session, singing the Eternal Unity of all existence.
Some people feel alone with social distancing. I would ask them to pay a little closer attention and not be distracted by their thoughts.
More will come when they are available. Stay tuned.