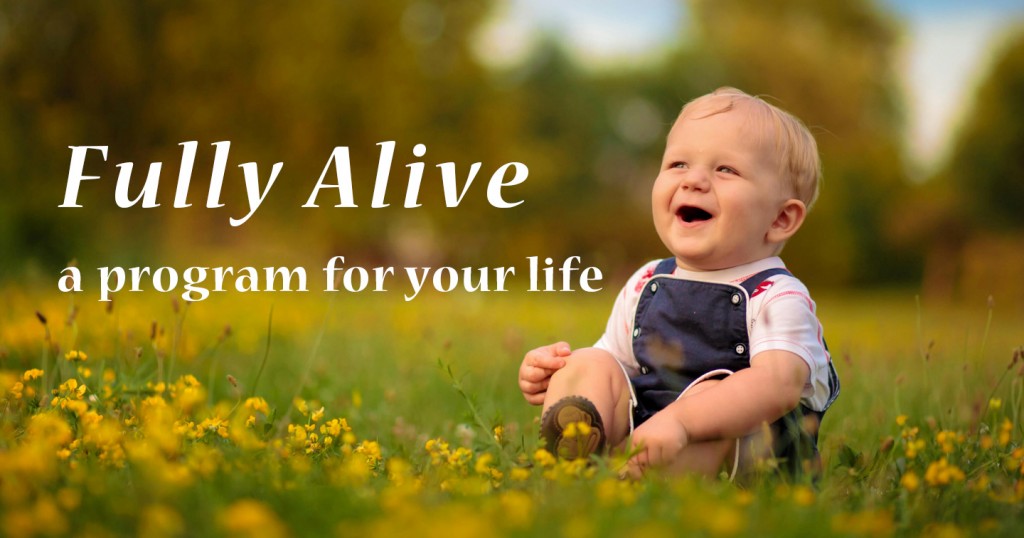 The Fully Alive Course is a simple program with weekly exercises, practices, and experiments to help you experience being Fully Alive again. To live Fully Alive is to manifest your full potential in each moment.
Most of us live the life we think we should. We follow the rules. We fit inside the box society has created for us. We play it safe. Without realizing it, over the years we've limited our life to a tiny percentage of what it could be. Compared to the vitality, energy, joy, creativity and enthusiasm we felt as young children, as adults we no longer feel Fully Alive. The Fully Alive Course is the remedy for that. It will blow the walls off those stagnant limitations and suddenly life is vivid and alive again.
You can do these exercises and experiments on your own. But it's even better to meet with a Fully Alive Group and practice together. The Groups can support and challenge each other to go deeper and open more fully. They can spontaneously create their own weekly practices and experiments and practice with each other.
This is a Course I felt inspired to create and offer. Just like life, it will grow organically and spontaneously, inspired by life itself. Much as we may wish it were, life is not predictable nor controllable. To live Fully Alive we surrender to life in each moment exactly as it is. That is the great adventure of living Fully Alive. As we surrender to life, we learn to trust it. There is nothing more worthy of our trust. But we can't know this until we directly experience it. Our minds, filled with opinions, judgments, fear and caution, tell us something different. Hold on tight. Don't let go. Over the years we lose our spontaneity, our fearlessness, and our joy. We lose our enthusiasm, our innocence, trust and love. We lose our life. The Fully Alive Course helps us regain that.
"I went to the woods because I wished to live deliberately, to front only the essential facts of life, and see if I could not learn what it had to teach, and not, when I came to die, discover that I had not lived."
– Henry David Thoreau
Mindfulness Practices
Living Fully Alive means to live deeply in the present moment, the only place where life or Truth can be. So there will be many mindfulness practices to help us be fully present and deeply enjoy the present moment exactly as it is.
Creativity
Creative expression is natural when one lives Fully Alive. It doesn't matter if you consider yourself an artist, writer, poet or performer. The practices we do are for everyone. It's not about creating a great work of art. That's for the ego. It's about allowing life to express through you. Even if you've never touched a paint brush, written a poem or danced a single step, you'll love these experiments.
Letting Go
We've lived so much of our life trying to fit into social norms and expectations that we end up resisting life as it really is. If we want to be Fully Alive we have to let this resistance go. We have many experiments to help us let go of these limitations and resistance and fully enter life as it is.
Cost
Because this is about life, you pay in the moment simply what you feel like. If you can afford it and you feel a great benefit, value, insight and aliveness, then pay whatever you think that is worth. If you don't get anything than don't pay anything.  I'm not going to make decisions for life. It does a very good job without my help. So pay whatever you can and feel you should. I trust you and I trust life.
Instead of paying ahead of time for something you have not yet experienced based on nothing but advertising and wishful thinking, you pay after you experience it according to what you experienced. Otherwise how can you really know what to pay? I'll be working on how to accomplish this online.
See how human language affects our ability to be fully alive: Human Language
What is the Buddhist concept of Nirvana and what does it have to do with the Fully Alive practices and experiments? Nirvana