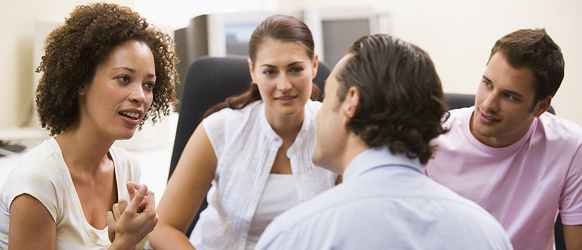 The ego loves conversation. Here it can share its ideas and opinions. It can reinforce itself by gaining attention and hopefully approval. In conversation, the ego feels very real. This is its normal environment. It very much wants to get its ideas and opinions across to others. It very much wants to be seen and acknowledged as "right". If it does not receive approval and acknowledgment, it feels lessened and it suffers. If it does, it feels bigger, more important and good.
Conversation is the playground of the ego. Here is where it builds and reinforces itself. Here is where it "proves" it is real and not simply an illusion created out of conditioned thoughts.
The True Self has none of these needs that the ego has. It is already real so it has no need to prove itself or gain acknowledgment for what is already true. It does not need any approval or acknowledgment. It always knows itself and that is all the acknowledgment it ever needs. It is always at peace, always happy and always one with all that exists.
In the Enlightenment Experience Groups, we want to stay in this experience of the True Self. We have spent most of our lives living as an ego and being controlled by this sense of a separate, independent, individual self. We have experienced the suffering that inevitably follows the ego like its shadow. The ego can never be apart from suffering no matter how it tries. The ego is the sole cause of all suffering and is suffering itself. There is no suffering without this sense of a separate self. This ego has a functional purpose for basic functioning in the world, but when it is identified as what we are, when it runs the show, we will always experience suffering. For this reason, during the Enlightenment Experience Groups, we do not encourage the ego. We do not cater to it, acknowledge it or flatter it. We see it for what it is and simply let it go.
That is also why we avoid conversation in the Groups. If there is a break, we remain in silence. We have specific practices that allow very limited speaking. But these practices do not allow the ego to assert itself. Instead they bring us into this expanded state of our True Self. From here we see the ego very clearly and it no longer bothers us.
I'm not suggesting you never have a conversation again. Conversations are fine. But please notice the tendency of the ego to arise in any conversation you have. If you experience a desire for attention, acknowledgment, approval or being right, ask yourself what is doing this? Where is this desire coming from? And what is aware of all of this? This can be a wonderful teaching for you. Take a moment of silence to really feel this. Yes, right in the middle of your conversation. Don't worry; if the person you are with is speaking from their ego, they won't even notice it. And you will be very happy.