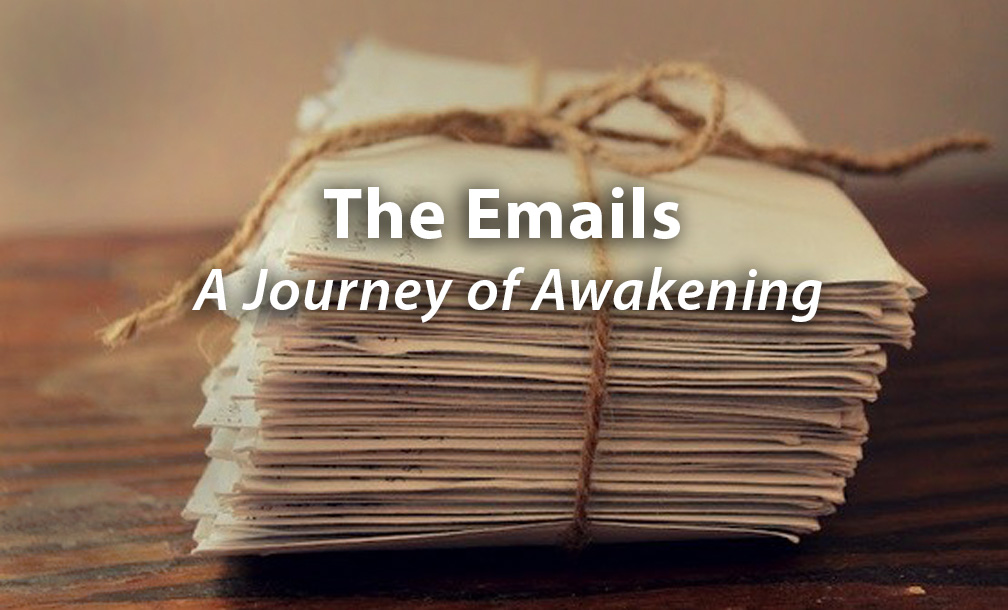 This a wonderful correspondence that happened over a four month period. It is like a document of the awakening process. It demonstrates the opening to Truth in someone who is very determined and committed. And it shows the gradual growth, transformation, deepening and consistency of Truth over this period. You can also see where great fear arises as part of this process. But when determination is strong enough, it cannot hold us back. It is a wonderful teaching. I hope you can experience the love and joy that emerges when this energy is directly experienced and shared. My gratitude to Susanne for allowing me to share this with you. 
July 3, 2017
dear peter, thank you again for allowing me to ask questions to you. I am so thankful for that. I am on this path for lifetimes but since 2015 I know that there is even no path. there is just NOTHING. this was "just" a short insight during a vipassana retreat but it was so profound that I went to moojis after that to join a 10 days retreat at monte sahaja. in this retreat another experience took place for nearly two days: I realised that I am not this body. I saw it, I saw how it functioned – but it was, better to say it IS – not me. after I wrote my message to you I had the same experience again. i woke up in the night and there was just nothing – nobody (in words : NO BODY), no I, no me, no mine. It was so powerful but at the same time I could "watch" the ego trying to "come back". I was falling asleep again and in the morning the "I" was there again. mooji says that "we" have to comb out the ego but who does this combing out? my experience is that it is going back and forward. sometimes I am just nothing and then ego comes back. it is exhausting and joyful at the same time and I have the feeeling that it is itself combing out. there is nothing to do, it happens on its own. am I right? do you have any other advice? since 2015 I do not sit any longer regulary in formal meditation because in every single free moment during the day my mind comes back to this empty space inside of … me?  I really hope my english is good enough, thank you again for your help. there is no other desire than the full realisation of the truth – its such a paradox because I know that I am already THIS. susanne
 July 6, 2017
Yes, Susanne, this is wonderful. 
It combs out by itself. 
There is a time of back and forth movement during this transition. This is very natural. Freedom, lack of freedom, freedom, lack of freedom. But notice that each time the freedom is becoming deeper. It's subtle, but pay attention. You will see this. And the times in lack of freedom are shorter. Again, in the beginning this shift is subtle. When it becomes 50/50. Half the time in freedom, half the time not, that is the tipping point. And it is working by itself. It is evolution. 
At some point the time in freedom will be so deep, so complete, that it will outshine everything else. This happens after the 50/50 tipping point. Then you will spend much more time in freedom. And the time in lack of freedom, illusion will just no longer interest you. You will recognize it. You feel it in the body, a sense of constriction, boundedness. But you now know what you are. Boundless, limitless, beyond any personal identity. And you know the feeling of personal identity, of limitation, boundedness, lack of freedom are just thoughts, just a concept, what you have previously believed you were but now no longer do. So this experience of limitlessness just outshines the previous experience of self, of concepts, of identity, of everything. 
It is a natural process. Because of your deep commitment you have a taste of it. Because of the taste you know it exists. Because you know it exists you will naturally spend more time here. Because you spend more time here it will naturally be integrated and be your natural state. That is the process. There is not much we do at this point. Spend as much time in silence and solitude as possible to avoid distractions pulling you away while this is integrating. Give it this room to integrate. 
It sounds like you are doing everything right. I am very happy to hear this. 
You ARE already this and have always been this and there is nothing we can say about this. It is beyond concepts. And yet for a very long time you and all humans have not been aware of This. We identified with this idea of a self and it felt very real. The more we experience what we really are, beyond a self, the more those other identities just naturally fall away with no effort on our part. This is doing this. Truth is coming to the surface because we are no longer avoiding it, distracting from it, putting our attention on thoughts. Now we are able to realize it. It's wonderful. And this wonderfulness keeps us here longer and longer. It is very natural. And you are deep in the process. Now it unfolds by itself. All we need to do is cooperate with the natural flow of it. It does ask for some quiet, silence, isolation, free of distractions. That's all it asks for. It does all the rest. Also be open to everything. Every thought and feeling too, even distractions, even resistance should any still arise. Everything. Truth rejects nothing and attaches to nothing. We are always safe here in this great infinite Presence. 
Wonderful. Wonderful. I'm very happy to receive this email. Yay!!!
Love,
Peter
July 7, 2017
dear peter, I have no words yet how thankful I am for your email. I feel so much gratitude for your words and for YOU spending your precious time on this letter to me. I read your words again and again today. and every time I read your letter I can see how deep your words are. thank you for being a witness for the process of this awakening. and thank you for the guidance. I really appreciate your advices and will follow them with all my heart. I already noticed that the freedom becomes deeper and there is less interest in the illusion – but I am not sure if it already became 50/50. but its ok because I know its a process. after reading your email tears came up. I already knew that the Truth started to unfold anyhow but now I feel more certain about that. And there is no way back, this makes me very very happy. I have no idea how long the "back and forth time" will last and very often I can "feel" the ego, "my person" like a kind of "taste" which "colors" the Truth (I hope you understand) but the good thing is that I KNOW that there is only the Truth. even when "I" forget it sometimes. If you don't mind I will write to you again when an urgent question arises. I feel so blessed. thank you so much, sending you love, susanne
July 7, 2017
Yes, Susanne, write whenever you like. I am very happy to help in any way I can. This is my purpose to help people make this transition. It benefits all of us. All of existence benefits as soon as any being awakens. So of course I am happy to help. 🙂
There is a time when the "I" lets go of doing anything, even trying to awaken, which it actually can't do. Awakening is freedom from the illusion of the "i". A powerful illusion that 99.99999% of all humanity is deeply hypnotized by. And there is a very good reason for this as well. But you are awakening, so you are beyond the need for this. 
Knowing when the "I" is back, when there is a feeling of limitation, often this is noticed first in the body as a sense of contraction or constriction, limitation, is wonderful awareness. This is one of the most important realizations for the full transition. It can't "sneak up on you" any longer, or not nearly as much. When it does, you know it. And because you know something else, it will become easier and easier to just let go of this contraction, realize it is not real, just thoughts, let go and return to freedom and limitlessness. This will become very natural. Noticing when the ego returns is a key part of this process and practice of "remembering". 🙂
Love,
Peter
Fear Arises
July 22, 2017
dear peter, this morning I woke up with tremendous fear. a couple of days I got the invitation from monte sahaja for a seven weeks stay at the ashram. I will work as a cook there but the main thing is to be in satsang with mooji. I applied for this months ago and its not easy to get an invitation because so many people want to be there. anyhow, i woke up with this fear and I saw that it appeared because of going to Portugal. I was staying with that fear while lying in bed and suddenly there was such a deep experience of "NO STORY". Its hard to find words but "I" really could not remember the past – the past of the person susanne – there was just being. no past, no future. what a release again. now the fear is back. Its ok to have it but I want to know if this is ego deeply knowing that it can totally die during the time in moojis presence. or is it just another "mind fuck" (please excuse this word)? sending you love, susanne
July 22, 2017
Wonderful, Susanne, all the way around. 
Yes, it is very common for the ego to create intense fear before awakening. It is as if it is the only way it can cling to its position of the ruler of your life. But this same fear also makes you even less attached to it. This is very unpleasant, but it is not a bad thing at all. You are learning the experience of fear and no fear, concepts and no concepts, attachment and freedom. 
It is going very well, although it doesn't always seem to be, such as when fear returns. There is probably a good chance you can wake up in Mooji's presence. But let go of even this story. Just be. Moment to moment just be with whatever is. You'll continue doing this after awakening anyway. Begin now. 
From reading your email, everything appears to be going very well. A 7 week stay at the ashram also seems to fit right into this. There are no accidents or coincidences. 
Don't worry about the fear. Open to it. Let it be exactly what it is in each moment. It will teach you it is just ego, just concepts. And then it will dissolve. Let it teach you this. 
Nothing really dies. Illusions will remain in your brain as thoughts. You just won't believe them any longer. That's all. An illusion that is no longer believed as truth has zero power over you. It's just a thought. The way to stop believing them is to open to them fully and allow you to directly see if there is any truth there or not. In the case of fear, there never is. But you must see this for yourself. And you do it by opening to it fully with no resistance and no wish anything were any different than it is. This is wonderful. This is True Healing. 
The energy at Mooji's Ashram will help you open even more. Accept everything exactly as it is. Life is completely on your side, even if your ego is not. 🙂
Peter
July 23, 2017
I am so grateful for your guidance. Thank you so much. Bless you,  bless you, bless you. Susanne
August 27, 2017
Dear peter, I am on my way to mooji travelling through European by car and with every mile more fear arises.  I have no idea from where it comes from but its very very strong. I was so much looking forward to go to monte sahaja but now body and mind are shaking.  I never experienced this before. Is it the ego?  Even the body starts to get sick.  I will continue the journey but something is very frightened. From the middle of Spain,  susanne
August 27, 2017
Yes, Susanne, it is the ego. It is a long held habit and it is seeing that perhaps it won't be in the driver's seat much longer. Yikes! It's not that the ego goes. It becomes a tool, like a hammer. And it was used to being the King or Queen. Now it's just a hammer, a character used for presenting a self to the world. A huge demotion. So fear will come up when it feels threatened. It is also part of our survival mechanism which is where the ego originated from. So now there is this still subconscious fear of death and extinction. 
What you want to do is open to this fear fully. Embrace it. It is hard because it is so unpleasant and your natural instinct is to avoid it, push it away, repress it, escape from it. Do the opposite. Open to it. Welcome it. Let it be exactly as it is. Ask for even more so you get all of it. If you do this, the subconscious fears will become conscious. Now you can see them. And they're not nearly as bad as they were when they were still subconscious. They are simply what they are. Fear of death. Fear of extinction. Allow death. Allow extinction. Embrace it. Welcome it. This will neutralize the fear. Instead of resisting and fearing death and extinction, you welcome them. The result, no more fear. 
Do you die? No. Are you extinct? No. You're still here. But the ego is not in so much control. If you can say okay to death, okay to extinction, then the ego has no more control over you. Now you control it. It's a character, a tool. You use it when it is useful. And the rest of the time you pay no attention to it. Put the hammer back in the drawer after you hammered in the nail. Use the ego when it is useful, answering to your name, etc. Forget about it when it's not longer useful, which is most of the time. 
The effects of this fear can be strong. The body can feel sick. It is all about resistance. Once you stop resisting it, the effects on the body, the sickness, etc. will dissipate and eventually go away completely. When you stop resisting resistance, there is no more resistance. When you stop resisting fear, you are no longer afraid. 
Open to it. Accept it. Welcome it. Embrace it. Learn from it. It is natural for this to happen and it is a good sign. Mooji will tell you this. The ego is on the run. But you must not resist the ego either. Open to, accept, embrace everything. This way Truth will reveal itself. We don't know what is illusion and what is Truth. We have to let Truth show us this. And we do this by not resisting anything, by welcoming everything. What is not Truth will fade away when we stop resisting it. What is Truth will just go stronger. 
Fear of death and extinction are the trump cards of the ego and illusion. They are the final tools in the arsenal of the ego. Once you accept them and say okay, this too. Illusion has nothing else to frighten you with. You're free. 
So this experience is terribly unpleasant, as unpleasant as anything you have experienced. I understand. But it is also the best thing because now you have the opportunity to be completely free. Awakening is not always or probably ever an easy process. We have to let go of illusion and because of our strong attachments and resistance to letting go completely it is difficult. By accepting fully everything that comes, we let go of resistance and attachment. 
It's not pleasant, but it's also wonderful. Open to it fully and you will see. Perhaps you won't even need to see Mooji. 
Love,
Peter
August 28, 2017
Bless you,  bless you,  bless you. I understand every word of your mail deeply.  This life is meant to wake up. No other choice.  No plan b. Thank you so much for your guidance.  you always find the right words to keep "me" going. Bless you! Susanne
August 29, 2017
When there is no other choice, awakening is inevitable. Here is a tip. If you place absolute Truth as the most important goal or the only goal of your life, you cannot fail. That way you will go through whatever lies in your path because you realize that 1. Whatever is not Truth will fall away when you stop resisting it and open to it fully. 2. Whatever is Truth will remain and deepen. If Truth is your only goal, then whatever appears on your path will be used for Truth. If it is not True, it will fade by itself. If it is True, it will deepen. This makes it easier to go through any unpleasant experiences on the path, such as the great fear of death and extinction. You don't turn away from anything. You say, "Okay. That too. I will go through anything for Truth."
I cannot see how you will not awaken, Susanne. You know that is for you in this life. That is the most important thing, perhaps the only thing that is really necessary: your determination. 
I am very happy to hear this. 
Love,
Peter
August 29, 2017
I bow to your feet! Susanne
August 29, 2017
Let me wash them first. 🙂
Peter
The Awakening
October 3, 2017
Dear peter, I left monte sahaja yesterday but I am invited to come back. Anyhow, I had no chance to ask mooji a profound question which was arising in my heart on my last day. During morning meditation there was suddenly the sense that "I" am in everything. I was sitting outside the hall in the sun and when people started to come out "I" saw always "me" in everyone . For hours I saw me in every flower, in every tree, even in stones and even "things ". But there was still a sense of ego at the same time. It was so beautiful anyhow. I was crying and my whole body was shaking for hours. Now its even more beautiful because after this experience I  can see and even feel a great stillness in everything. Its soooooo beautiful. So deep, so vast,  so holy… beyond words.  I am deeply in love with it. This stillness is the source of the whole universe and yet untouched at the same time. I am so full of love and gratitude to be able to experience this. To be with it in every second. I still sense me as a person.  I am not one with it. I  know that I am but I can't sense it. Is there anything "to do"?. My feeling says: be with it and love it. Or shall I start asking: who is watching this?  There will be an open satsang next sunday at moojis. I am still in the area and hopefully he will call me to the mircofon on sunday . But I would be be grateful for your advise too. Sending you love,  susanne

October 3, 2017
Hi Susanne,
How totally wonderful. I wonder if it is okay to share what you wrote because it is a beautiful description of awakening. 
Still, you have the sense of a person, a little lingering personhood. You are totally aware of this. It is not a problem. Just stay with this beautiful feeling. Here is Truth. This beautiful feeling of wide awareness, of seeing yourself in everything, of the falling away of separation, is Truth. Simply stay here. This will eventually outshine any lingering sense of separation. Right now you can see how small this sense of separate personhood is compared to this great expansive experience of non-separation, of freedom from the illusion of separation. It is outshining the illusion. You don't have to do anything. It is already being done. 
Exactly, "be with it and love it". You are of course one with this great freedom, otherwise you could not experience it. It is not coming from somewhere else. It IS YOU. 
I am very, very happy to hear this. It brings tears of gratitude and love to my eyes. I am so happy. This is wonderful, Susanne. Thank you. Just stay with this. Truth is doing everything now. And you are not fighting it any longer. How totally wonderful. 
Please let me share this email with others as I think it will really help them. If you want me to take your name out, I can do that. 
Wonderful. Wonderful. And please give my love to Mooji.
Love,
Peter
October 4, 2017
Of course you can share my letter, dear peter. With my name,  its totally ok. And thank you so much for your support and for confirming this process of awakening. Its very important for me. Your guidance is so precious and such a gift. I am a writer as you might know. One day I would love to skype with you if you agree because I want to suggest you to my publisher.  Your posts on fb are so helpful and it would be great to publish them as a book.  Now I go back to my beloved silence. Love you, full of gratitude,  susanne
Comment on these emails
Susanne is so good at describing her experiences here. Her great determination, even when she first wrote to me, showed me that it was inevitable she would awaken. I'm not surprised, but still very happy and grateful. Nothing could hold her back. It is natural for fear to arise as we get closer. Often this fear is greater than any fear we've ever experienced before. It is the terror of death and extinction. This is what the ego separate self-identity is created from. As we get closer this is revealed. It has nothing to do with thoughts, this is a very primal, visceral direct experience. We feel it. Susanne's determination for Truth was so strong that she went through this fear rather than backing down or succumbing to it, even though part of her wanted to. As a result, she awakened. There is more to come. There always is. But the strength of this awakening and her commitment to it, I feel will carry her through any other obstacles by itself. This is a strong awakening. The Dharma Wheel has turned. Yay!