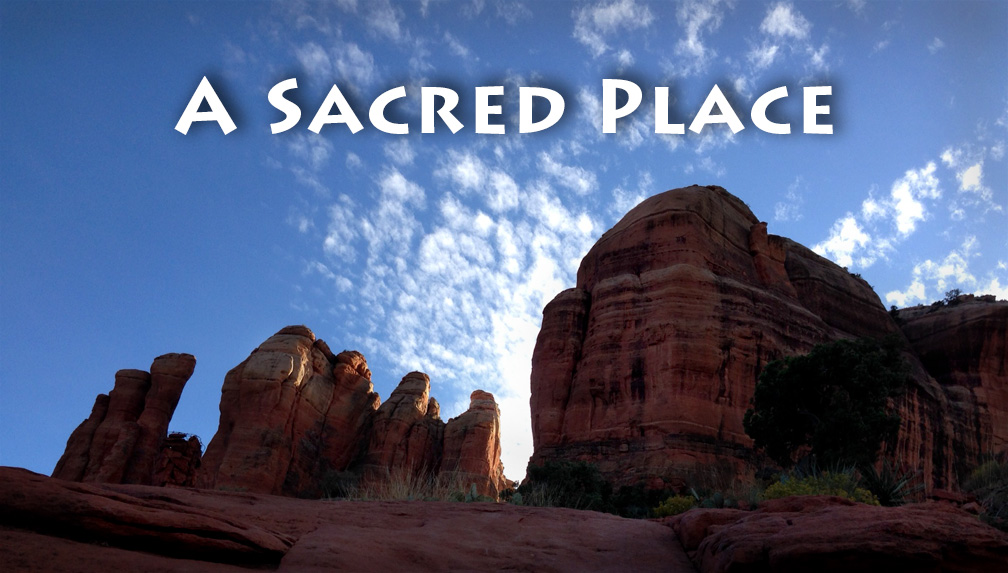 I always learn so much every time I meditate up on top of Cathedral Rock in Sedona. It is a great teacher to me. I imagine that Ramana Maharshi didn't just worship Arunachala, the holy mountain where he lived, but that he too learned from it. It might be strange to say that a rock can teach us. But I cannot deny this for it is so.
I have a very powerful connection with Cathedral Rock. There are many sacred places in Sedona I could choose to spend time with. But Cathedral Rock has called me, probably not that different from Ramana being called from his home by the holy mountain Arunachala. I can't really explain it. Perhaps everyone has a sacred place that calls them. They just may not have heard it yet.
Actually there is no place on earth that is not sacred. But some specific places seem to call to us with more force than others. I don't know why this is.
The Koan
Over five years ago, when I was first called to Sedona, I was given this koan: "The rocks and you are exactly the same. There is not an inch of difference between you." Perhaps it's not a coincidence that the name Peter means rock. But that's not what this koan is about. If you are not familiar with the term koan, it is a Zen practice for awakening. It is a simple phrase Zen teachers give to their students like, "Show me your Original Face before your parents were born." When this phrase sinks deeply into the student's consciousness, it is like a seed deeply planted in fertile soil. Eventually this seed grows and blossoms into a beautiful and profound awakening. Unlike the seed of a plant, the seed of a koan continues blossoming as there is no end to awakening. It blossoms infinitely.
This koan was given to me by the rocks, specifically Cathedral Rock and Thunder Mountain. You could also say it was given to me by the infinite consciousness that all things emerge from. It is the same thing. This koan sunk deeply into my consciousness. And it continues to blossom every day manifesting in beautiful flowers of increasingly deep insight.
Tree People
For the last month or so every time I pass one certain tree on my ascent up Cathedral Rock, out of the corner of my eye I very clearly see a person. I alway look and there is not a person, but that same tree. It's strange that this would always happen the same way at the same spot with that same tree. Today I realized why. In my previous life, I didn't just consider humans people. I considered trees, tree people, rocks, rock people, birds, bird people. That was my relationship with all that is. I had a great deal of respect and love for all that is. I didn't see human people as better than tree people, rock people or bird people. There was an experience of Oneness. When I said, "All my ancestors." there was nothing left out of that expression. My ancestors included trees, rocks, birds, the sun, the stars, the great mother earth herself. This was a few hundred years ago and today, in our sophisticated modern society, some people may consider this primitive. But I don't consider it primitive at all. I consider it truth.
And what Cathedral Rock did was simply remind me of this, remind me of my old ways, remind me of truth that much of our modern, sophisticated society seems to have forgotten. This is what I mean when I say that Cathedral Rock is always teaching me.
But that wasn't the only lesson I was to receive today. When I reached the top, I sat in meditation as I always do, welcoming and being welcomed by the sun, the rocks and the wind. Since it was a weekend, there were many people up there. Cathedral Rock is one of the most popular hiking destinations in Sedona. This is not the first time I wondered why I was called to such a popular place when there are far quieter and more remote places to meditate. Today Cathedral Rock showed me why.
Human People
Human people are generally a pretty noisy bunch. They love to talk and comment on whatever is going on. And this trait may be even more prominent when they are on vacation and they come upon such a beautiful place. I've gotten used to this, but I can't say I enjoy it. And don't forget, Cathedral Rock is a very holy place for me. What some people may experience entering a great cathedral, an ashram or a Zen monastery, I experience on Cathedral Rock. It is a very sacred space for me. And with all the noise going on, it's sometimes a little hard to hear what the rocks have to tell me.
Today I learned that much of my reaction was due to traumas I experienced as a child. My father used to tell me that "humans are the number one bad animal". He loved animals and all nature, but he didn't feel the same about humans. He said that humans are the only species that kill each other and they kill other species just for fun. He spent a long time in the military during World War II. He began before the US was even involved. He saw a lot of death up close. Both my parents were alcoholic and there was a lot of violence in my home. I learned early on to be afraid of adult humans. And this fear and reason for fear was reinforced outside the home as well.
Sitting up on Cathedral Rock, I felt completely at one with the rock people, the tree people, the sky people, the sun people, the wind people, the bird people. I felt at home, at one and in love with all these people, with only one exception – the human people. This reflected my early childhood as well. I could sit out in the middle of the forest on a pitch black moonless night, listening to the sounds of the night animals, and feel completely safe and at home. In fact, I felt completely at one with everything in nature. I did this a lot because it was not always as safe in my house. In my house, there were humans. And they didn't make me feel safe the way I felt in the forest. And here, up on Cathedral Rock, I was experiencing this again. I wasn't afraid of the humans who were chattering away. But I was resisting them. I was not including them in the great circle of oneness that included everything else. This was a great and valuable teaching for me. That is why this popular, crowded place, filled with chattering humans, was the perfect place for my spiritual practice and education.
Little by little, I included the humans into this circle of oneness, this circle of unconditional love, this circle of truth. I realized that everything that I perceived, the rocks, trees, sun, wind were all simply expressions of this one, infinite, formless, un-manifested presence. I could feel this deeply throughout my entire being. And I was also none other than an expression of this infinite, eternal presence. So why leave humans out of this truth? Everything is an expression of this one timeless presence. And everything IS this one timeless presence. And that means all humans, just like these wonderful humans chattering away up here. And then I opened completely. I was no longer resisting. Rocks, trees, wind, birds, humans all one expression of the infinite and timeless presence. My heart exploded in love. It reached throughout all space and time. And then I saw the exquisite beauty of these humans. While I was resisting, I could not see it. This essential goodness was radiating from all of them. One young man climbed down a very steep part of the rock to retrieve plastic water bottles other hikers had thrown there. Another man was talking about working with autistic children and I could feel his love and compassion. Everywhere the flower of humanity was revealed to me. What I had perceived as annoying chattering showing a lack of respect for this sacred space, I now realized was instead pure love. It could no longer be hidden by my previous stored and repressed traumas.
For most of us, it is relatively easy to love nature and feel comfortable in nature, just as it is for me. Humans are more challenging. But humans are also nature and cannot be separate from nature. Humans are a bit of a paradox. On one hand they are the only species we know of who can fully awaken to their True Infinite Self. On the other hand few ever do. Although that is beginning to change. But, even at their most ignorant, they are pure expressions of the infinite and eternal presence that is the source and substance of all things. I guess sometimes I forget that. And, like a great teacher and loving mother, Cathedral Rock always seems to give me exactly what I need exactly when I need it.
I'm feeling that my next stop may be Times Square in New York. If I can sit in the middle of that bustling caldron of humanity and feel nothing but perfect peace and love, I think the lesson begun on top of Cathedral Rock will have truly manifested. It may take a little longer than an hour. I may have to give it a few days. Life gives us so many opportunities to practice, to learn, to grow. Whatever we need always arises as soon as we need it. The trick is paying attention. Throughout most of my life I missed most of these great gifts, almost all of them. I didn't know how to pay attention. I didn't even know I should. I lived in a dream world. Until I began meditating, I didn't even know how to be quiet enough to pay attention. But that's okay. That's the course of a human life. We're always moving, always evolving, always learning. Truth has never been kept from us. We've just spent a lot of time being distracted and not paying attention. When we begin paying attention, we begin to see our sacred place everywhere.