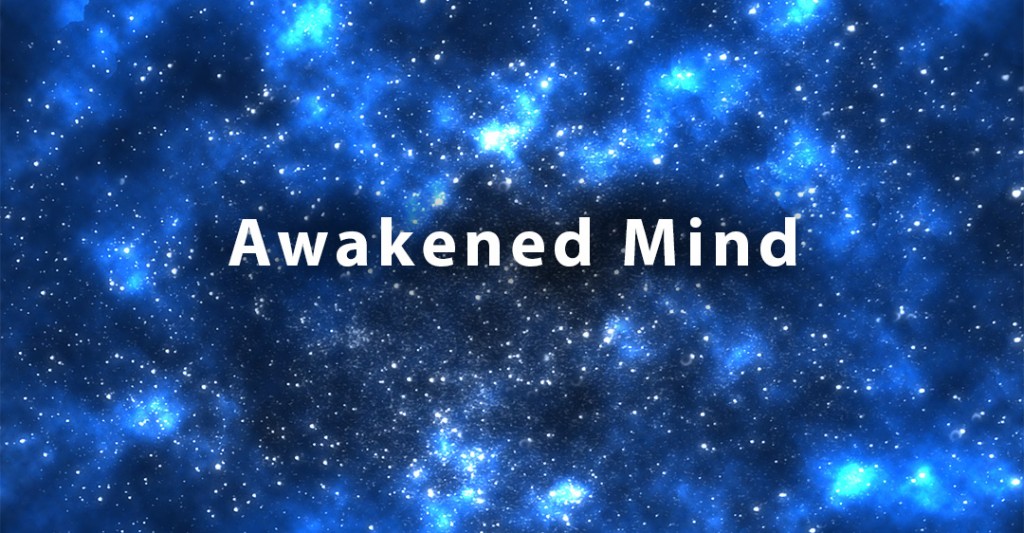 In Zen, we use the words Big Mind or Buddha Mind. In non-dual teaching we may call this Pure Consciousness or Pure Awareness. Both refer to the same Awakened Mind.
Big Mind or Awakened Mind is different from small mind. Small mind is simply the mind involved in thoughts, attached to thoughts, addicted to thoughts and living in thoughts. We could also call this thought-mind.
If you want to experience Awakened Mind, simply stop thinking for a moment. Stop focusing on your thinking. Stop giving thinking any attention. Because of our strong thinking habits, we will only be capable of doing this for a very short time at first. But here it is. In the space between thoughts, we discover this Big Mind, this Awakened Mind.
We may call this Big Mind, because it is infinitely large. It has no limits and no beginning nor end. We may not realize this in our first brief experience of freedom from indulgence in thinking mind. That's okay. It's perfect. Awakened Mind is infinite so there is no end to our experience of it. Simply continue these brief moments of focusing on the space between thoughts and Awakened Mind will become clear.
Over time, over these brief moments of freedom from the world of thinking, the realization of Awakened Mind will unfold. We will come to realize that Awakened Mind is always here. It is here in this space between thoughts. And it is here during thoughts. It is here when we are happy and when we are sad. There is no time, nor has there ever been any time, when Awakened Mind has not been here.
As we sink deeper into this experience, this realization of Awakened Mind, we realize that this is truly what we are and have always been. Previously we may have been convinced we were a series of thoughts, feelings, experiences or sensations we called me. But now we know these were just thoughts, feelings, experiences and sensations. Now we realize that we are the infinite space that all of this appears in. We realize that all things also must be this same Awakened Mind, all thoughts, all feelings, all senses, all perceptions. all people, all things. Nothing can ever be outside of this Awakened Mind. It is that Big.
Although no thought can be separate from Awakened Mind, Awakened Mind is never affected by any thought. It neither rejects nor attaches to any thought. Awakened Mind is like space. Everything appears in space, but space is never affected nor changed by anything that appears in it.
Realizing this Awakened Mind is very simple. Do not try to understand it or anything written here with the thought-mind. Simply relax the thought-mind for a moment. In this space between thoughts, no matter how brief this may be, here shines Awakened Mind. As you continue these short moments of directly experiencing Awakened Mind, you will naturally spend longer periods of time in this realization. It is too wonderful not to. As you do this, you will come to realize that Awakened Mind is always here. No matter how busy the mind of thoughts may be, Awakened Mind is always here. No thoughts nor anything else can be separate from Awakened Mind. It is the Source of everything we think, feel, sense or perceive. As these short moments grow, you will realize yourself as this same Awakened Mind.