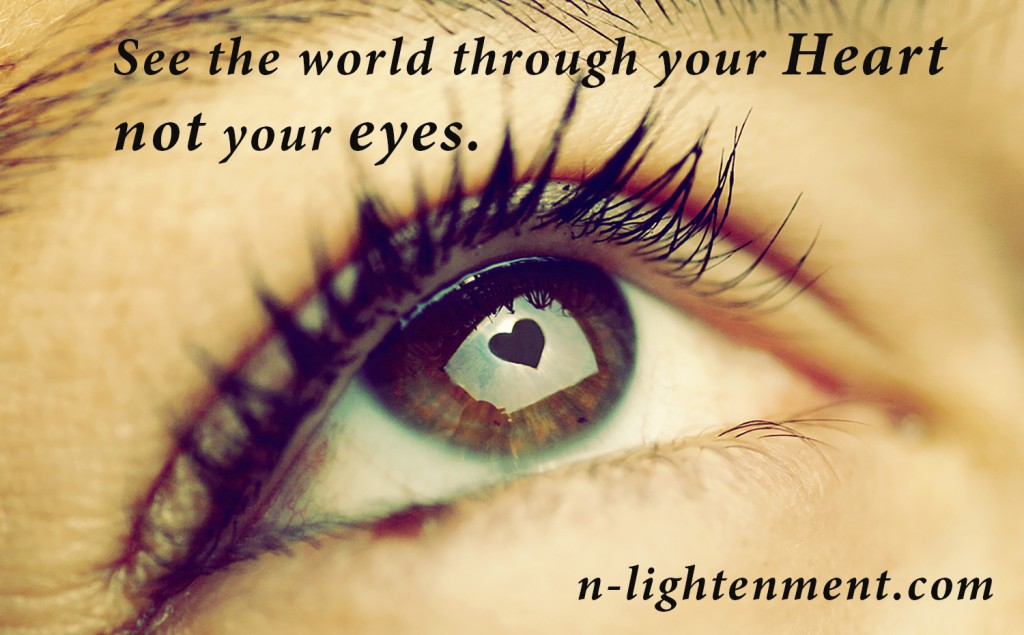 If you really want to see the world as it is, don't see it through your eyes. See it through your heart. This takes some practice at first. Our physical eyes are very related to our conditioned thoughts. You've heard the saying, "Seeing is believing." But this is actually totally inaccurate. Instead scientists have discovered that 'Believing is seeing." We only see what we believe we are seeing. Our conditioned thoughts filter and re-arrange what we see to fit our beliefs.
So if we want to see the world as it is, we can't rely on our physical senses. They are much too distorted by our conditioned beliefs. Instead we can learn to see through our heart. We can learn to see the world through feeling.
As I said, this takes some practice at first. For those who have experienced this great presence of love during meditation, as many have in the Living Awake Groups, you can begin with your eyes closed until this feeling fills you completely. When you are completely filled with love, not for a person or object or anything at all, just the very being of love, open your eyes and look around. You will notice the strong habit to go back to seeing through your previously conditioned thoughts and beliefs and this feeling of love will begin to fade. Don't let that happen. Keep most of your attention on this love that is always here. 75% love, 25% what your physical eyes are seeing. This will prevent your conditioned thoughts from taking over and creating what you see. Things will look very different I can promise you that.
You may need to close your eyes from time to time to re-establish your attention and awareness on this love without subject or object. As soon as this awareness has been re-established open your eyes again and look at the world. It doesn't matter what you look at, but it will probably be easier with inanimate objects at first. You have less conditioned thoughts about inanimate objects than you do about people for instance. What you will notice right away is that everything you see has this quality of infinite love about it. And that there is no separation anywhere. Shapes and colors and forms are just as they were before, but now there is this great unity about all of it. It is as if you were looking at what is behind everything you see. It is as if you are looking at the Source. And it is the same Source for everything. And this Source is not separate from you.
So try this practice of looking at the world through your heart instead of just your eyes and your conditioned beliefs. It's a real "eye opener". You will be seeing with awakened eyes.
There are many more practices, posts and videos on this website that can help you. For a more detailed,  step-by-step practice of opening your heart to the love that is always here, the book The Zen of Love – Discover Your Own Awakened Heart can be very helpful.
There are also online groups: Living Awake Groups
as well as individual sessions available: Individual Session
The Map of Consciousness – The Journey to Awakening