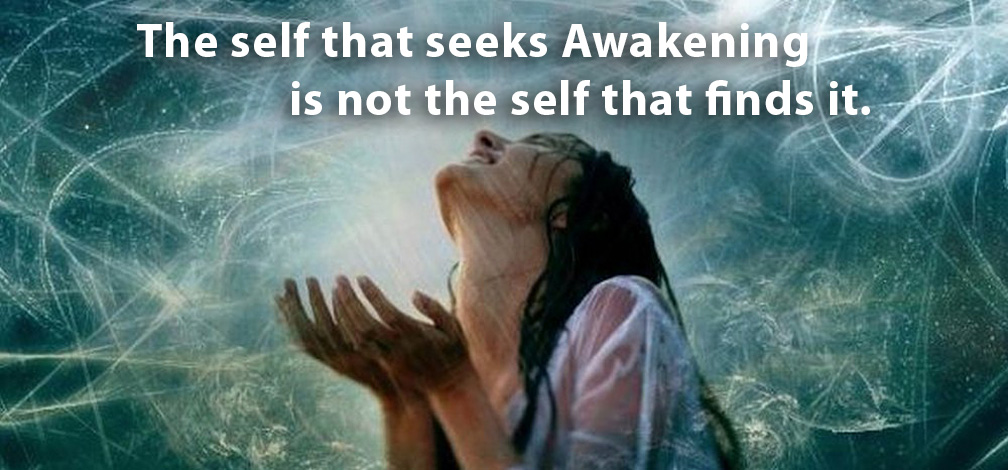 A recent post in praise of the ego was a wonderful reminder of something more subtle on the spiritual path. Although far more subtle, even our search for enlightenment and awakening can, and often does, have a self-serving mind state. "I want to awaken because I will be happier." "I will have less suffering." "I will be more special than those who are not awake." "I can become a spiritual teacher." There are many variations of this self serving approach. It is as if we expect the ego itself to awaken and become a better, more enlightened ego.
And there is much spiritual teaching that caters to and encourages this. We might call it "the enlightened self" or the "divine self". And this is not bad or good. It may be a useful transition. When we realize that even the very best, most enlightened and most divine self cannot give us the peace, happiness and love we are searching for, we can begin to see through the dream completely.
It is natural for this self-serving to appear on the beginning of our journey. But, at some point, we realize this self-centered approach cannot get us very far. It is like a dog chasing its own tail. No matter how much effort we expend, we just end up going in circles.
Awakening is not for the ego; it is from the ego. It is a complete relaxation of all identification with this thought-based sense of a separate self. Because we have been so conditioned to believe this experience of a separate self is real, the undoing of this belief is not always so simple. This is what spiritual practice is for. We are not adding anything. We are simply removing conditioned illusions we have believed our entire life. We have been programmed. Spiritual practice is de-programming. It is not substituting a new and better belief. It is shedding all beliefs, so truth can be realized as itself in each moment.
There is nothing wrong with the ego or any illusionary thought. They are simply thoughts. It is only our belief in them as reality, our identification and our attachment that creates so much mischief and suffering in our lives.
To experience truth, simply relax all thoughts, all beliefs. Relax into what is always here. No thought, no belief, no ego, no separate self, no matter how "enlightened" or "divine", can ever give you This. And when you do this, you won't worry about the ego or the "enlightened" or "divine" self any longer. You will find something much more. And you will find that you and everything that exists have never, ever been separate from This. It is not your ego that has awakened. It it not your separate self that has come Home. It is you. And this you cannot even be imagined.